Grotorque SPO
Tax included.
Shipping
calculated at checkout.
---
---
Hygain® Grotorque® is a micronized sweet feed concentrate scientifically formulated and balanced to meet the nutritional requirements of growing horses, mares and stallions.
Grotorque®, the breeders' choice for weanling and yearling sales preparation.
Complete Micronized sweet feed concentrate for improved digestion.
Amino Acids, the building blocks of protein for muscle development and to maximize growth.
Prebiotics to support a healthy gut and immune system.
Pure Rice Bran Oil to maximise absorption and feed efficiency for muscle building.
Chelated Minerals are highly available and support healthy bones.
Natural Vitamin E for antioxidant, circulatory and cardiovascular functions.
Probiotic aids in fibre, phosphorus and calcium digestion.
| | |
| --- | --- |
| Crude Protein | 25% |
| Phosphorous | 1% |
| Crude Fat | 8% |
| Lysine | 20g |
| Max Crude Fibre | 10%  |
| Vitamin E | 740IU |
| Added Salt | 1.25% |
| Selenium | 1.25mg |
| Calcium | 2.2% |
| Copper | 100mg |
MICRLUPINS®, MICRBEANS® , Sunflower Seeds, Vegetable Protien Meals,  Canola Meal, Lucerne Meal, RBO®, Natural Vitamin E, Lysine, Molasses, Salt, Calcium Carbonate, Di-Calcium Phosphate, Magnesium Oxide, Prebiotic (MOS), Probiotic (live yeast), Methionine, Biotin and HYGAIN® Vitamin and Chelated Mineral Premix
Feeding Rates Per Day*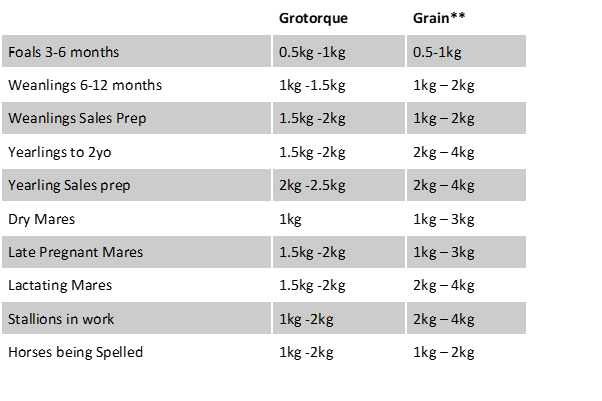 *Intended as a guide only, all variables should be taken into consideration.
**Depending on pasture quality and availability, grain may not be required.
---